Very expensive. The top version of the flagship laptop Samsung Galaxy Book3 Ultra with a Core i9 processor and GeForce RTX 4070 will cost 3800 euros
On February 1, a large Samsung Unpacked event will take place, within which the premiere of both the new flagship phones of the Galaxy S23 series and the new Galaxy Book3 series laptops is expected. At the disposal of an insider known on Twitter under the nickname SnoopyTech, there were data on the cost of Galaxy Book3, Galaxy Book3 360, Galaxy Book3 Pro, Galaxy Book3 Pro 360 and Galaxy Book3 Ultra in Europe.
Galaxy Book3 Ultra
The most interesting thing is the cost of the flagship model Galaxy Book3 Ultra. As you can see, the laptop will not be cheap. For a version with a Core i9-13900H processor, GeForce RTX 4070, an AMOLED 3K screen, 32 GB of RAM and 1 TB of flash memory, they will ask for almost 4000 euros! Judging by the announcements at CES 2023 in early January, many gaming laptops with GeForce RTX 4080 graphics will be more affordable. But the Galaxy Book3 Ultra is, of course, not about pure performance, but about maximum performance in the most compact device.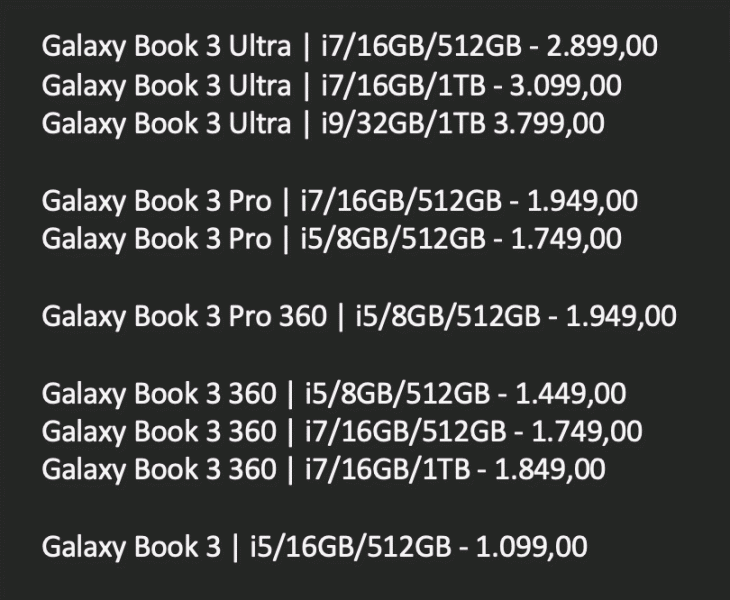 As for the simpler version of the Galaxy Book3 Ultra, there will be a Core i7-13700H and GeForce RTX 4050. Well, in the base one, apparently, there will be the same Core i7-13700H, but without discrete graphics.
We already wrote about the characteristics of the Samsung Galaxy Book 3 Pro: these laptops (in two formats – with screens with a diagonal of 14 and 16 inches) will be equipped with a Core i5-1340P and Core i7-1360P CPU, and dGPU is not provided for them.
Earlier, SnoopyTech published high-quality renderings of the Asus Zenfone 9 and Xiaomi 12T Pro before their official premiere.
Is it time to finally retire video cards with 2-3 GB of memory? Halo Infinite no longer runs on these adapters
Video cards with a small amount of memory can sometimes still perform well in modern games, if we are talking about the flagship solutions of yesteryear. However, now there is at least one game where accelerators with less than 4 GB of memory simply will not work. This is Halo Infinite.
A fresh patch for this game now simply does not allow you to run it on a PC with video cards that have less than 4 GB of memory. At the same time, such changes are not mentioned in the description of the patch.
It can be noted that the requirement in the form of at least 4 GB of memory has always been in the game, but usually such requirements are conditional. In particular, Halo Infinite ran on inappropriate 3D maps prior to the patch. For example, there are a lot of videos on the Web where the game is tested, including on a GeForce GTX 1050 with 2 GB of memory, which is quite enough to play even in Full HD with minimal graphics quality settings. But there is a much more powerful GeForce GTX 1060 3GB, which feels quite tolerable even in more demanding games.
There is a possibility that the restriction is just a mistake and will be removed soon. But not at all a fact.
24-core Core i9-13900HX and GeForce RTX 4090 Laptop. Legion Y9000P Extreme Edition unveiled – Lenovo's most powerful gaming laptop
Lenovo today in China introduced a lot of new products, including the most powerful of gaming laptops – Legion Y9000P Extreme Edition. The top model has only the highest performance components: a 24-core Core i9-13900HX and a GeForce RTX 4090 Laptop.
True, such a 3D accelerator is available only in the maximum configuration, for which, however, they ask for quite adequate $ 3,200. And the $2,615 base version uses a GeForce RTX 4080 Laptop.
Legion Y9000P Extreme Edition received a 16-inch screen with a resolution of 2560 x 1600 pixels and a frame rate of 240 Hz. It provides 100% sRGB color space coverage as well as Dolby Vision technology. The maximum brightness is 500 cd/m2, the screen also meets the requirements of the DisplayHDR 400 standard.
The laptop received metal outer panels. The case thickness is 22-25.9 mm, the weight of the device is 2.7 kg.
The Legion Y9000P Extreme Edition received an improved cooling system, a backlit keyboard, Wi-Fi 6E and 2.5 Gigabit Ethernet adapters, 32 GB of DDR5-5600 RAM, a 1 TB PCIe 4.0 SSD, and an 80 Wh battery. Pre-sales in China will start on March 26.
2.5K 165Hz screen, Core i7-13700H and GeForce RTX 4060 Laptop for $1,165. Lenovo has finally unveiled the GeekPro G5000, its most affordable gaming laptop yet.
Lenovo today officially unveiled the GeekPro G5000 gaming laptop in China. It is touted as the most affordable (modern) model in the Legion lineup.
The GeekPro G5000 is equipped with a 15.6-inch IPS screen with a resolution of 2560 x 1440 pixels and a frame rate of 165 Hz. It also talks about a maximum brightness of 350 cd / sq.m. and covering 100% of the sRGB color space. The amount of RAM DDR5-5200 is 16 GB, the amount of SSD is 1 TB. The laptop comes with a 60Wh battery and a 140W USB-C power adapter included in the box.
The base version of the geekbook has an i5-13500H processor and a dGPU GeForce RTX 4050 Laptop with a consumption of 95W, while the top version has a Core i7-13700H processor and a GeForce RTX 4060 Laptop with a consumption of 115W. Accordingly, the price of the first option is $1020, the second one is $1165.