Unreal Engine developer explains why modern games need at least 12 GB of memory for video cards
Recently, a review of the Hardware Unboxed channel made a lot of noise on the Web, as it followed that video cards with 8 GB of memory today are already poorly suited for many modern games. In an interview with the well-known channel Moore's Law Is Dead, the developer working with Unreal Engine 5 actually confirmed the theses of the review, at the same time explaining why high-performance video cards today need at least 12 GB of video memory.
cover video source
One of the main reasons why modern games need 12 GB of memory is due to the specifications of modern consoles. Both the PlayStation 5 and Xbox Series X come with 16GB of total memory, of which the GPU can consume just 12GB. And many multiplatform games are developed primarily for consoles. Having to optimize them for PCs with weak graphics cards is extra work.
An additional problem in this case is the upcoming full transition to the next generation of consoles, when developers stop creating new games, including for PS4 and Xbox One.
A small amount of video memory can be a problem even in not the highest resolution. According to a podcast guest, many developers argue that the upcoming GeForce RTX 4060, with its 8 GB of memory, which is attributed to it, will not cope well with modern games in resolutions higher than Full HD. Against this background, it is interesting that the RTX 3060 has 12 GB of memory.
The interlocutors also touched upon Direct Storage technology, which is just beginning to appear in games. The author of the podcast told how his friend spoke with an Nvidia representative at the GDC. When they broached the topic of Direct Storage, the latter stated that for this technology to work properly on a PC, you need 32 GB of video memory! True, it is not very clear what is meant by normal, because in the same Forspoken technology works great and gives impressive results.
The developer also told why, in fact, modern games require so much video memory. It's all about much more modern graphics and the spread of 4K resolution. In modern games, there are much more high-resolution textures, unique textures even for small objects like stones and walls, in games the detail and elaboration of objects has significantly increased. For example, before the texture could consist of 5000 polygons, and now it is 500,000 or even several million in the case of Unreal Nanite technology. That is, there is an increase of two or three orders of magnitude.
In general, the situation for video cards with 8 GB of memory or less is getting pretty deplorable and, according to the podcast guest, things will get even worse in the near future.
Actually, AMD today was just reminding that its video cards offer 16GB of memory even in the $500 segment. How much memory the more affordable next-generation Radeon adapters will have is anyone's guess, but in Nvidia's case, we already know for sure that the $600 RTX 4070 offers 12 GB, and all available leaks say that the RTX 4060 and RTX 4060 Ti will have only 8 GB of memory.

Video cards continue to fall. The GPU market for PC collapsed by 43%
The PC GPU market fell 43% year-on-year in the first quarter of 2023, according to analysts at Jon Peddie Research.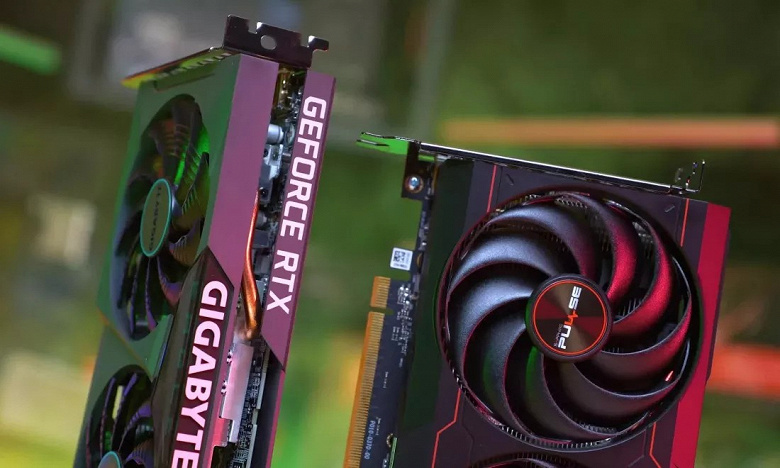 Desktop GPU shipments dropped by 40% and laptop shipments by 45%, nearly halving.
If we consider the GPU market as a whole, including iGPUs in processors, then Intel continues to dominate with a 68% share, AMD holds 13%, and Nvidia has a 19% share. At the same time, Intel's share has grown significantly over the year, while Nvidia and AMD have seen a decline.
Analysts also assessed the processor market. There is data on the distribution into segments: 31% fell on desktop CPUs, and the remaining 69% are laptop processors. A year earlier, the shares were respectively 27% and 73%.
Monitor with a giant curved 144Hz QD-OLED panel. Asus ROG Swift OLED PG49WDCD unveiled
Asus has revealed its new ROG Swift OLED PG49WDCD gaming monitor, which offers a very unusual feature set.
First, the monitor is huge. We are talking about a 49-inch panel. Secondly, this panel is curved. Thirdly, this is a QD-OLED panel, which is still very rare. Among other things, it is characterized by a peak brightness of 1000 cd / m2.
Fourthly, the resolution of this panel is 5120 x 1440 pixels, that is, the aspect ratio is 32:9. In addition, the panel supports a frame rate of 144 Hz.
From the rest, we can note support for USB Power Delivery with a power of 90 W, HDMI 2.1 ports and a stand that allows you to adjust the height of the panel. Price data is not yet available.
This is the second generation of the iconic NH-D15 super cooler. There are not many changes, but it's still a long time to wait for the release
Noctua first showed a new generation of CPU cooler NH-D15.
Outwardly, the cooler has changed very little, so they decided not to change the name. But, for example, there were eight heat pipes against six in the first generation. In addition, the gap between the ribs was reduced from 1.9 to 1.6 mm.
Two new-generation 140mm fans will be responsible for airflow, details of which are not yet available. All of this combined should make the iconic cooler a bit more performant, although now, almost 10 years after its release, it is still one of the best-performing CPU coolers on the market.
Despite the demonstration, the release of the novelty is still far away: Noctua is going to release the cooler only next year.