It looks like the launch of the Radeon RX 7600 graphics card is really very close. Adapters were seen in one of the Asian stores.
The photo shows RX 7600 cards manufactured by Sapphire. The packaging confirms the presence of 8 GB of memory, as well as 32 CU units, that is, 2048 stream processors. In addition, the adapter has 32 MB of Infinity Cache.
From what we heard earlier, we can also add data about a 128-bit memory bus and a GPU frequency of about 2.6 GHz. Resource Videocardz says that the sources of the photo mention a price of $ 250, but this information could not be verified. The RX 6600 once started at $330.
There is also nothing to say about the performance of the novelty yet. It can be noted that the RX 6600 XT has the same 2048 stream processors and the same memory subsystem, but the new model relies on a new architecture, so it should be faster.

Video cards continue to fall. The GPU market for PC collapsed by 43%
The PC GPU market fell 43% year-on-year in the first quarter of 2023, according to analysts at Jon Peddie Research.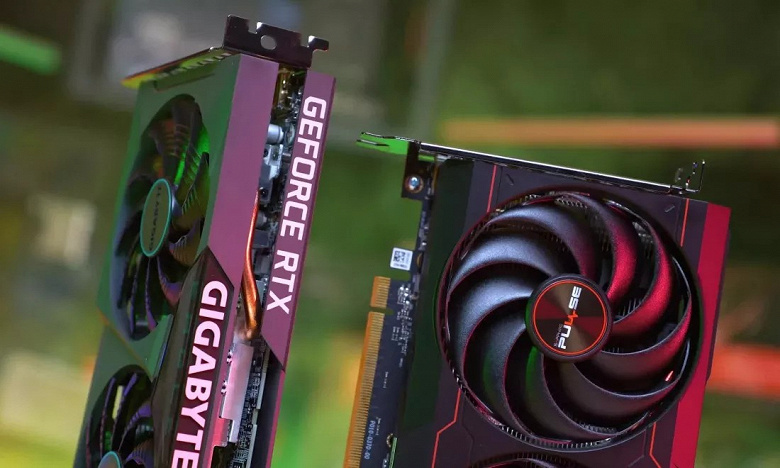 Desktop GPU shipments dropped by 40% and laptop shipments by 45%, nearly halving.
If we consider the GPU market as a whole, including iGPUs in processors, then Intel continues to dominate with a 68% share, AMD holds 13%, and Nvidia has a 19% share. At the same time, Intel's share has grown significantly over the year, while Nvidia and AMD have seen a decline.
Analysts also assessed the processor market. There is data on the distribution into segments: 31% fell on desktop CPUs, and the remaining 69% are laptop processors. A year earlier, the shares were respectively 27% and 73%.
The all-new Geely Galaxy L7 crossover went on sale in China. 390 hp, three screens, 3-speed transmission and 1300 km on one tank for 19.5 thousand dollars
In China, the first model of Geely's new sub-brand, Galaxy, went on sale. Under the designation Galaxy L7 hides a mid-size hybrid crossover with a long range and a low price.
Galaxy L7 is offered in five trim levels with prices ranging from 19.5 to 24.4 thousand dollars. The two most affordable versions received a traction battery with a capacity of 9.11 kWh, it provides a range on pure electricity of 43-55 km, in other trim levels a traction battery with a capacity of 18.7 kWh is used, and right there the range is more – 90- 115 km. The power reserve of a fully fueled and charged crossover is 1310-1370 km.
The power plant of the crossover is represented by a 1.5-liter turbo engine and a pair of electric motors, the total power of all elements is 390 hp. Torque is sent to the wheels via a three-speed DHT Pro transmission – so all the power is available in one of the modes (when the motors work together).
The dimensions of the car are 4700 x 1905 x 1685 mm, the wheelbase is 2785 mm.
The Geely Galaxy L7 received three screens, but they are located differently from the Geely Monjaro: the displays in front of the driver (with a diagonal of 10.25 inches) and the front passenger (diagonal – 16.2 inches) have a horizontal orientation, but the central screen with a diagonal 13.2 inches oriented vertically. But that's not all: the Geely Galaxy L7 also has a 25.6-inch projection screen. The infotainment system of this model is running Galaxy OS, and its hardware platform is based on the Qualcomm Snapdragon 8155 SoC.
Also in the Geely Galaxy L7 equipment are heated and ventilated front seats, 11 speakers, a Bluetooth dongle and a host of driver assistance systems, including adaptive cruise control.
Monitor with a giant curved 144Hz QD-OLED panel. Asus ROG Swift OLED PG49WDCD unveiled
Asus has revealed its new ROG Swift OLED PG49WDCD gaming monitor, which offers a very unusual feature set.
First, the monitor is huge. We are talking about a 49-inch panel. Secondly, this panel is curved. Thirdly, this is a QD-OLED panel, which is still very rare. Among other things, it is characterized by a peak brightness of 1000 cd / m2.
Fourthly, the resolution of this panel is 5120 x 1440 pixels, that is, the aspect ratio is 32:9. In addition, the panel supports a frame rate of 144 Hz.
From the rest, we can note support for USB Power Delivery with a power of 90 W, HDMI 2.1 ports and a stand that allows you to adjust the height of the panel. Price data is not yet available.