The cheapest laptop with Intel Iris Xe Max discrete graphics. Chuwi CoreBook Xe will cost only $ 600
Intel presented its first mobile discrete video card Iris Xe Max in the fall of last year, but it never appeared in laptops en masse. If only because its performance practically does not differ from the iGPU G7 in Tiger Lake-U processors.
However, there will soon be one more laptop with Iris Xe Max on the market. The Chuwi CoreBook Xe model will receive just such a video card and will be released in April. And with a price tag of only $ 600.
It was possible to achieve such a price, among other things, thanks to the use of not the most recent processor. The novelty will receive a 14-nanometer Core i5-10210U. By the way, it may be the first laptop to combine an Iris Xe Max graphics card with an older generation Intel processor. It also has to be the cheapest laptop with the negotiated Intel graphics card.
As for the rest, the source says a 15.6-inch screen with a Full HD or 2K resolution, 8 GB of RAM and an SSD with a capacity of 256 GB to 1 TB.
…
Intel Core i9-13900H, GeForce RTX 3050, up to 64GB RAM, Ubuntu 22.04 LTS. System76 Gazelle unveiled, one of the most powerful Linux laptops
System76 – a well-known manufacturer of Linux systems – introduced the Gazelle laptop. This model is equipped with a 14-core Intel Core i9-13900H processor and a GeForce RTX 3050 3D accelerator, making it one of the most powerful laptops preloaded with Linux. The OS here is either Ubuntu 22.04 LTS or Pop!_OS 22.04 LTS.
Gazelle has two options – with screens with a diagonal of 15.6 and 17.3 inches, but apart from the dimensions there are no differences: the specifications are the same, and even the screen parameters are the same – Full HD resolution and a frame rate of 144 Hz.
The maximum RAM (DDR4-3200 MHz) is 64 GB, the maximum SSD is 8 TB (there are two M.2 slots). The configuration also includes Gigabit Ethernet, Wi-Fi 6E and Bluetooth 5 adapters, stereo speakers, a 1 MP webcam, and a 54 Wh battery. The weight of the 15-inch model is 1.99 kg, the 17-inch model is 2.41 kg. The cost is from 1300 dollars.
16-inch 3.2K 165Hz, i9-13900H and GeForce RTX 4070 under 2kg. Lenovo Legion 9000X 2023 proved to be a light laptop for its category
Lenovo has published details about the Legion 9000X 2023 laptop. This is a full-fledged gaming model with a 16-inch screen, but at the same time the thickness of the case is small – 17.99 mm at the thinnest part, and the weight does not exceed 2 kg. This model is sure to be one of the lightest in its class. And at the same time, it should be noted the presence of a high-capacity battery – 100 Wh.
The Legion 9000X 2023 has a 2.5K resolution 240Hz IPS panel at its base, while the more expensive variant has a 3.2K resolution panel at 165Hz. The processors in the top version are Intel Core i9-13900H or AMD Ryzen 9 7940HS, the graphics accelerator is GeForce RTX 4070. The maximum amount of DDR5-5600 MHz RAM is 32 GB. The package includes a 230W power supply, both USB-C ports of the laptop support 140W charging.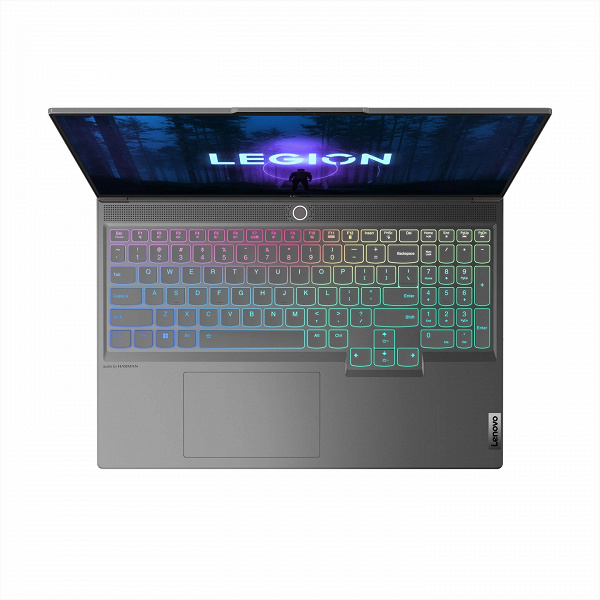 Lenovo Legion Y9000X 2023 (based on Intel CPU) will go on sale in April starting at $1,770. Legion R9000X 2023 (on AMD CPU) will be available in May, starting price is the same.
Intel Core i7-13620H, Nvidia RTX 4060 Laptop, 32GB RAM, 4TB SSD and custom design. Alienware x14 R2 laptop unveiled
Alienware has unveiled the Alienware x14 R2 laptop, powered by 13th Gen Core processors and Nvidia RTX 40 Laptop graphics cards.
The Alienware x14 R2 laptop measures 260.41 x 321.08 x 14.5mm and starts at 1.8kg. The Alienware x14 R2 is equipped with a 13th Gen Intel Core i5-13420H or Core i7-13620H Raptor Lake processor and RTX 4050 or RTX 4060 Laptop graphics. RAM can be 16 or 32 GB, the laptop supports up to 4 TB on NVMe SSD.
The Alienware x14 R2 features a 14-inch 2.5K resolution display with a high refresh rate of 165Hz that delivers 100% DCI-P3 color space coverage and a 3ms response time.
The Alienware x14 R2 features a microSD card slot, a 3.5mm headphone/microphone combo jack, two Thunderbolt 4 interfaces, USB 3.2 Gen 2 Type-C, HDMI 2.1, and a USB 3.2 Gen 1 Type-A port.
The Alienware x14 R2 is powered by an 80.5Wh Li-Ion battery and supports 130W charging.
The Core i7-13620H and RTX 4050 Laptop version costs $2,180 in China.