Samsung is already testing One UI 5.1 for the Galaxy A73 5G, but many more phones from the company will receive the new firmware – list
New evidence has surfaced online that Samsung is preparing One UI 5.1. This time with the beta version of the new firmware, the Galaxy A73 5G lit up. Test software #A736BXXU2CWA5 was released on January 13th and the description says that it contains an update to the One UI interface. Probably, we are talking about One UI 5.1, since the One UI 5.0 update for this model has already been released.
But One UI 5.1 test version is available not only for Galaxy A73 5G, but also for Galaxy S22, S22 Plus and S22 Ultra, Galaxy Z Fold4 and Z Flip4, Galaxy S21, S21 Plus and S21 Ultra, Galaxy S20, S20 Plus and S20 Ultra , Galaxy A53 5G.
But in general, the preliminary list of Samsung phones and tablets that will receive One UI 5.1 looks like this:
Galaxy S line:
S22 series devices;
Devices of the S21 and S21 FE series;
S20 and S20 FE series devices;
S10 Lite series devices.
Galaxy Z line:
ZFold4;
Z Flip4;
Z Fold3;
Z Flip3;
ZFold2;
Z Flip LTE/5G.
Galaxy Note line:
Galaxy A line:
A73, A53, A33, A23, A13;
A72, A52, A52s, A32;
A71, A51.
Galaxy Tab line:
Tab S8 series devices;
Tab S7 series and FE models.
Samsung Galaxy S23 smartphones may differ in speed: versions with 128 and 256 GB are equipped with different memory
As it became known, the versions of the Samsung Galaxy S23 smartphone equipped with 128 and 256 GB of flash memory differ in the type of this very memory.
The 128GB version uses slower UFS 3.1 memory. The 256GB version of the Galaxy S23 uses the new UFS 4.0 memory. In both cases, new LPDDR5X RAM is installed.
Allegedly, the base version may be slower in various scenarios than the 256GB version of the Galaxy S23. UFS 3.1 has a sequential read speed of 2100 Mbps and a sequential write speed of 1200 Mbps, while UFS 4.0 has a sequential read speed of 4200 Mbps and a sequential write speed of 2800 Mbps.
There is evidence that Samsung does not produce 128 GB UFS 4.0 memory chips. Only Kioxia makes 128GB UFS 4.0 memory, but even those don't reach the required speeds. Therefore, Samsung decided to use UFS 3.1 flash memory for the lower version.
Samsung is offering a free upgrade for those who pre-order the Galaxy S23 series in many countries. For example, if you order the 128 GB version, you can get the 256 GB version.
Early 2023: AnTuTu's Best Android Smartphones by Price-Performance
The AnTuTu benchmark team has published the latest rankings of the best Android smartphones in terms of price and performance in different price categories –– as of January 2023.
According to experts, in the beginning of the year, Vivo and Iqoo firmly "entrenched" in the market of expensive models. At the same time, in the cheapest category at a price of up to 1999 yuan (up to $ 296), the first three places went to Redmi Note 11T Pro, Oppo K10 5G and OnePlus Ace Racing Edition.
The next price category from 2000 to 2999 yuan (from 297 to 444 dollars) gave the first three places to Lenovo Legion Y70, Redmi K50 Pro and Iqoo Neo7.
The 3,000 to 3,999 yuan ($445 to $592) category is dominated by the Redmi K60 Pro, Honor 80 GT, and Xiaomi 12S.
The Iqoo 11, Iqoo 11 Pro and Xiaomi 13 Pro smartphones topped the category from 4,000 yuan to 4,999 yuan ($593 to $741).
Among the most expensive flagships at over $742, the Red Magic 8 Pro+ leads the way, followed by the Vivo X90 Pro and Vivo X90 Pro+.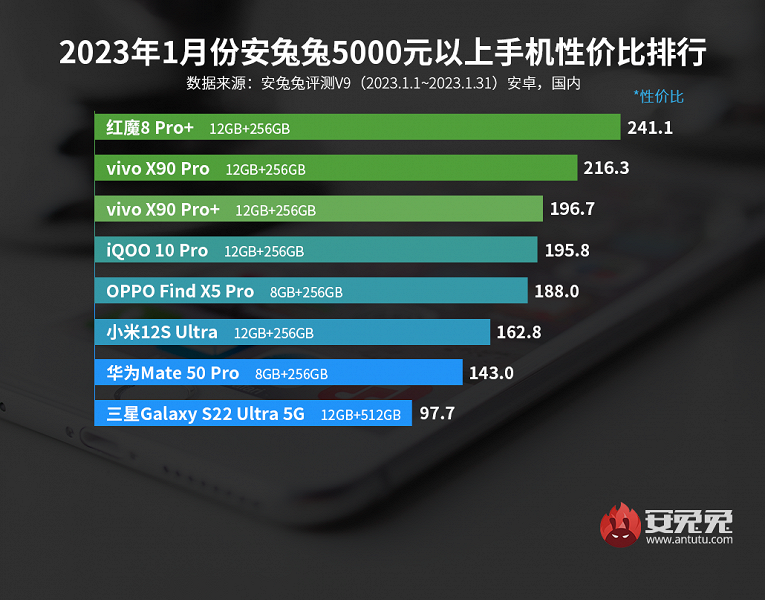 Perhaps it's time for Apple to cut the iPhone line to three models? iPhone 14 Plus Screen Shipments Nearly Zero
So far, all available statistics show that the iPhone 14 Plus is not in great demand. According to recent data, shipments of screens for this model in February will be very low, and in the previous two months, Apple partners did not ship such displays at all.
The data was shared by industry analyst and founder of research companies Display Supply Chain Consultants and DisplaySearch Ross Young. As you can see, shipments of screens for the iPhone 14 Plus began to decline actively from October, and after that the figure before October did not even come close.
At the same time, shipments of displays for the iPhone 14 Pro Max have been actively growing almost all the time, as well as shipments of screens for the iPhone 14 Pro. As for the base model, the figures are constantly changing, but in any case, in recent months they are often lower than for the iPhone 14 Pro. It is possible that the current-generation base iPhone will be the first such device in many years that will not be the undisputed leader in Apple sales.
Through his work, Young has access to information related to the screens, so he often knows more than ordinary insiders. In particular, he talked about 120 Hz screens in the iPhone 12 Pro and 60 Hz screens in the younger devices of the line.