Nvidia RTX 40 Series Gaming Laptop Performance and Runtime to Boost: 5th Gen Max-Q Technology Launched
Nvidia has announced on its official website the launch of the latest 5th generation Max-Q technology, which will significantly improve the efficiency of laptop graphics cards and gaming performance.
Max-Q technology allows Nvidia partners to take efficiency to a whole new level when manufacturing laptops with Nvidia RTX 40-series graphics cards, officials said.
DLSS 3.0 technology has been reportedly optimized for laptops and built into the 5th Gen MAX-Q, delivering up to 4x more performance, up to 2x more battery life, and 2x noise reduction.
In addition, Gen 5 Max-Q technology optimizes GDDR6 video memory to run at ultra-low voltage and adds 3-speed video memory control, allowing the GPU to dynamically switch to the latest low-power video memory mode.
Over the past 6 years, Max-Q technology has improved notebook performance by 22x, significantly improving battery life and performance when plugged in, according to NVIDIA.
A laptop with a 16-inch OLED 4K screen and weighing only 1.17 kg. Acer Legendary Edge introduced in Japan
Acer has launched the notable Legendary Edge laptop in the Japanese market. Its peculiarity is in a thin body, the minimum weight for the class and the presence of an OLED screen. Moreover, the display resolution is 4K. The aspect ratio of the screen is 16:10, the maximum brightness is 500 cd/sq.m.
In general, Acer Legendary Edge has been sold in China since last year, but in the version for Japan it has a different processor – instead of the "Chinese" Ryzen 7 6800U, Ryzen 7 Pro 6850U is installed. Otherwise, there are no changes in the hardware platform: the laptop is endowed with 16 GB of LPDDR5-6400 RAM and a 512 GB PCIe 4.0 SSD. Moreover, there are two slots for SSD in the laptop.
Acer Legendary Edge is made in the body of magnesium alloy and aluminum, the thickness of the device is 12.95 mm, weight – 1.17 kg. Interestingly, the same mass is attributed to the base Samsung Galaxy Book3 Ultra – also 16-inch and also with an OLED screen, but with much more powerful components.
Very expensive. The top version of the flagship laptop Samsung Galaxy Book3 Ultra with a Core i9 processor and GeForce RTX 4070 will cost 3800 euros
On February 1, a large Samsung Unpacked event will take place, within which the premiere of both the new flagship phones of the Galaxy S23 series and the new Galaxy Book3 series laptops is expected. At the disposal of an insider known on Twitter under the nickname SnoopyTech, there were data on the cost of Galaxy Book3, Galaxy Book3 360, Galaxy Book3 Pro, Galaxy Book3 Pro 360 and Galaxy Book3 Ultra in Europe.
Galaxy Book3 Ultra
The most interesting thing is the cost of the flagship model Galaxy Book3 Ultra. As you can see, the laptop will not be cheap. For a version with a Core i9-13900H processor, GeForce RTX 4070, an AMOLED 3K screen, 32 GB of RAM and 1 TB of flash memory, they will ask for almost 4000 euros! Judging by the announcements at CES 2023 in early January, many gaming laptops with GeForce RTX 4080 graphics will be more affordable. But the Galaxy Book3 Ultra is, of course, not about pure performance, but about maximum performance in the most compact device.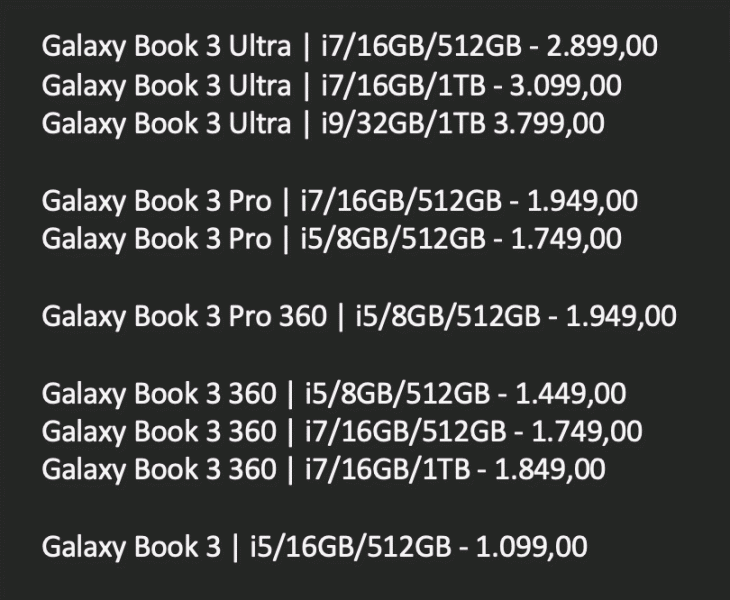 As for the simpler version of the Galaxy Book3 Ultra, there will be a Core i7-13700H and GeForce RTX 4050. Well, in the base one, apparently, there will be the same Core i7-13700H, but without discrete graphics.
We already wrote about the characteristics of the Samsung Galaxy Book 3 Pro: these laptops (in two formats – with screens with a diagonal of 14 and 16 inches) will be equipped with a Core i5-1340P and Core i7-1360P CPU, and dGPU is not provided for them.
Earlier, SnoopyTech published high-quality renderings of the Asus Zenfone 9 and Xiaomi 12T Pro before their official premiere.
Apple reached the ideal? Disassembly of the new MacBook Pro on M2 Pro showed that inside it is almost identical to its predecessor
iFixit disassembled the new 14-inch MacBook Pro on the SoC M2 Pro and found that its construction and interior design are almost identical to the predecessor model.
As you can see, the differences between the two MacBook Pros on early platforms are minimal, ranging from large parts to the location of various chips on motherboards.
iFixit followed Apple's disassembly guide, which is 160 pages long. The process is very time consuming, but there is nothing new in relation to the previous model. The score for maintainability is also low: 5 points.