Microsoft is thinking about introducing the OpenAI artificial intelligence system into the office suite. This will make it easier to work with texts and tables. The AI ​​system is expected to appear in Word, PowerPoint, Outlook, and other applications in the suite.
This will automate the creation of texts and emails using prompts. Also, AI will be able to track errors and typos in the text, and then correct them. It is not yet clear whether this technology will be used only in online versions of programs, or whether regular desktop and mobile versions will also receive it.
The source has not yet announced anything about the timing of implementation, it is possible that the novelty will be shown in the next major version of Microsoft Office. And earlier it was reported that Microsoft is preparing a new version of the Bing search engine, which will add the ChatGPT chat bot.
In general, Microsoft has already invested $1 billion in OpenAI and plans to increase investments in the future. Now there are negotiations on this subject. If successful, the amount could reach $10 billion.
As for artificial intelligence technologies, they will be able to simplify the writing of texts, search for letters in Outlook, will make it possible to automatically reply to messages, improve the writing style, and so on.
Early 2023: AnTuTu's Best Android Smartphones by Price-Performance
The AnTuTu benchmark team has published the latest rankings of the best Android smartphones in terms of price and performance in different price categories –– as of January 2023.
According to experts, in the beginning of the year, Vivo and Iqoo firmly "entrenched" in the market of expensive models. At the same time, in the cheapest category at a price of up to 1999 yuan (up to $ 296), the first three places went to Redmi Note 11T Pro, Oppo K10 5G and OnePlus Ace Racing Edition.
The next price category from 2000 to 2999 yuan (from 297 to 444 dollars) gave the first three places to Lenovo Legion Y70, Redmi K50 Pro and Iqoo Neo7.
The 3,000 to 3,999 yuan ($445 to $592) category is dominated by the Redmi K60 Pro, Honor 80 GT, and Xiaomi 12S.
The Iqoo 11, Iqoo 11 Pro and Xiaomi 13 Pro smartphones topped the category from 4,000 yuan to 4,999 yuan ($593 to $741).
Among the most expensive flagships at over $742, the Red Magic 8 Pro+ leads the way, followed by the Vivo X90 Pro and Vivo X90 Pro+.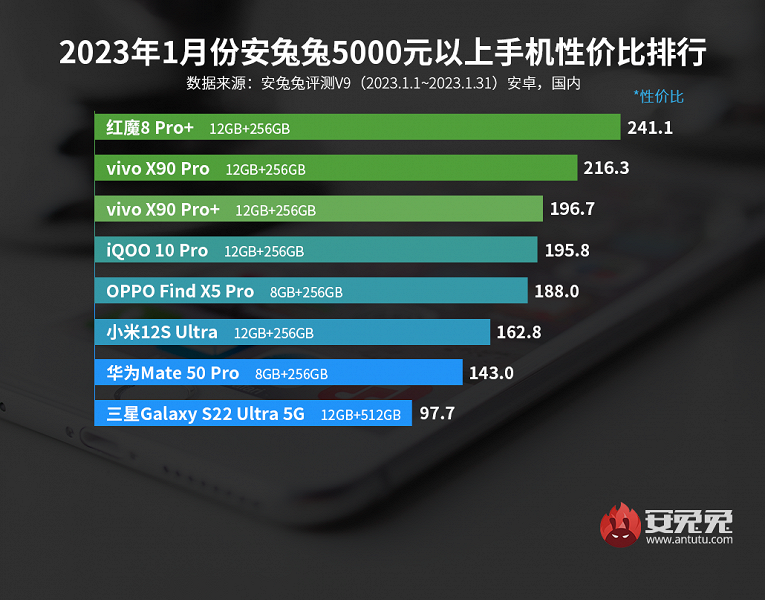 Now requires Windows 10. Google released the first version of Chrome under a new scheme
Google has released a branded browser update. The latest version of Chrome 110 is now available to a limited number of users, but already belongs to the stable stage.
Generated by the Midjourney neural network
Chrome 110 was the first version of Google's browser to have an adjusted release schedule with a more cautious approach to distribution. Google has now given access to Chrome 110 to a small number of Chrome 109 users, with a major release coming in a week. It is assumed that this approach will allow developers to identify problems with the browser and fix them before a large-scale launch.
Chrome 110 contains a rather long list of changes, but many of them are mainly relevant to developers, not ordinary users. For example, Chrome 109 was supposed to be the first version of the browser to implement an alternative to Google support for CHIPS (Cookies Having Independent Partitioned State), a proprietary addition to Cookies. It looks like CHIPS support has been moved to Chrome 110.
Of the notable innovations, you can now insert characters like "ß" and "ς" in domain names. These characters have been handled correctly in Firefox and Safari since 2016. Another innovation is a simplified procedure for setting up languages ​​in the built-in Google Translate service for translating pages. Translator settings are available directly in the browser settings at chrome://settings/language.
Chrome 110 also drops support for Windows 7 and 8.1. The browser requires Windows 10 or later to run.
Microsoft is determined: users see annoying Windows 11 ads in full screen, leaving Windows 10 is not easy
Microsoft has begun aggressively encouraging Windows 10 users to upgrade to the more modern operating system, Windows 11.
Windows 10 users have been complaining online that a full-screen page has begun to appear on Windows 10 computers, offering to upgrade to Windows 11 and completely covering the desktop.
What's more, Microsoft offers only two options for the obvious closing of this page, and both, in essence, mean "I agree." The first button starts the update right at the moment you click it, and the second one allows you to schedule the installation at a later time. If you look closely, you can see a less noticeable "breaking the dead end" – a small link "Keep Windows 10".
Needless to say, Windows 10 users are unhappy with Microsoft's attempts to impose the operating system with tricky banners and optical illusions. Many users are likely to hit the first button that is visually highlighted with color without reading the message, let alone looking for the cancel button, just to get back to their desktop and do their work.
Luckily, Microsoft hasn't launched an automatic update to Windows 11 yet, so the chances of you suddenly getting a new operating system are slim.
On February 1, Microsoft stopped selling Windows 10 licenses on its website.