Microsoft has announced the completion of the next major update to its operating system, Windows 10 21H1.
The company has released a fresh build 19043.928 for Windows Insiders, highlighting that this is the final build for Windows 10 21H1. The company also confirmed the official name of the update – Windows 10 May 2021 Update. The final version is already available for "clean" installation from a disk image (ISO file).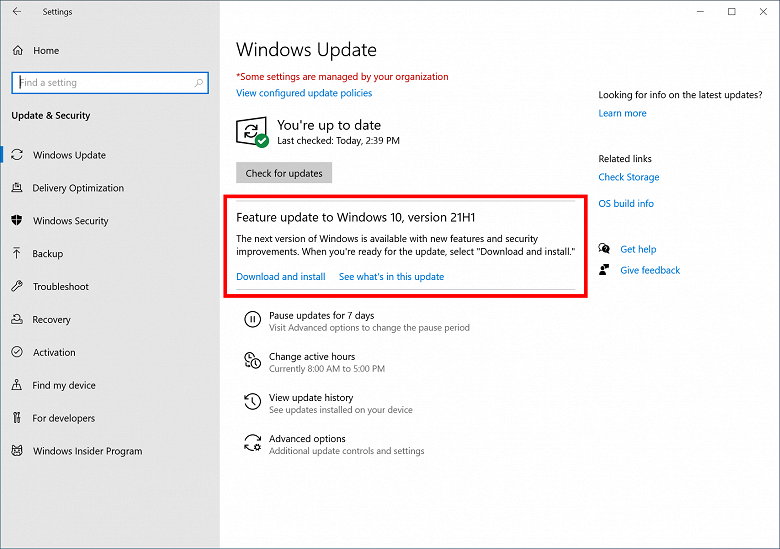 For ordinary users, Microsoft will begin distributing the Windows 10 May 2021 Update in the coming weeks.
Microsoft will release version 21H1 in a "service format" – as well as monthly updates, and version 20H2. The innovations are activated using a special key. As Microsoft promises, users of Windows 10 version 2004 or 20H2 will be able to update very quickly thanks to this approach. Similarly, the October version of Windows 10 20H2 is distributed, resulting in the transition from Windows 10 May 2020 Update (OS version 2004) to Windows 10 October 2020 Update takes only a few minutes.
Earlier, Microsoft confirmed the main features of Windows 10 21H1. This is not an overly impressive or overly large update that adds support for multiple cameras for Windows Hello and security related performance improvements:
Supports multiple Windows Hello cameras for default setting as external camera with both external and internal cameras;
improving the performance of Windows Defender Application Guard, including optimizing the time to open documents;
improved performance of the Windows Management Instrumentation (WMI) Group Policy Service (GPSVC) update to support remote scenarios.
In addition, Microsoft continues to prepare a major UI and design update, codenamed Sun Valley, which will be part of the Windows 10 Cobalt or 21H2 release. For ordinary users, this version of the OS will be available in the fall of 2021, most likely in October.
Recurring blue screens of death hit Windows 11 after installing the latest update
After installing the latest Windows 11 update, many users started experiencing recurring blue screens of death. OS version KB5013943 conflicts with some antivirus drivers for many users.
The blue screen of death can be the result of errors of all kinds, but is usually the result of a conflict between system files and certain applications or processes. It happens that an update causes problems with certain drivers.
As a reminder, KB5013943 is a security update that was released on May 10th. We've already reported that this update has caused issues with some services breaking. Now there is a clarification: the blue screen sometimes appears and disappears so quickly that users cannot read the error message.
Sophos has confirmed that its software may be the source of the error. The firm has also posted a workaround that prevents the crash on Windows 11:
Go to "Windows 11 Settings" and then to the "Windows Update" section;
In the Pause updates section, open the drop-down menu and select Pause for 1 week;
Then open the control panel;
Navigate to Programs and Features;
Click "View installed updates";
In the new window, search for KB5013943;
Right-click it and select Delete.
Sources say the Windows 11 22H2 update, codenamed Sun Valley 2, will reach pre-release status as early as May 24.
The latest update of Windows 11 and Windows 10 caused crashes
A few days ago, Microsoft began rolling out the May Cumulative Update, which is now available for all supported versions of the Windows operating system.
It turned out that this update brings with it not only fixes, but also problems that are expressed in the disruption of the functioning of some services. The software giant has acknowledged the problem.
Reportedly, these are KB5013943 for Windows 11 (build 22000.675) and KB5013942 for Windows 10 (builds 19043.1706, 19042.1706 and 19041.1706). Installing the cumulative update may cause client and server OS authentication failures in a number of services, including Network Policy Server, Routing and Remote Access Service, Extensible Authentication Protocol, and Protected Extensible Authentication Protocol.
According to the source, the issue is related to how the domain controller handles mapping certificates to users' computer accounts. The issue does not affect non-domain-controlled client and server OS versions.
Microsoft is currently working on a patch that will fix the bugs mentioned. When exactly it will become available to users is still unknown. Users who encounter issues after installing the cumulative update are advised to manually map certificates to accounts in Active Directory.
It is reported that the RTM version of Windows 11 22H2 (Sun Valley 2) will be released on May 24th.
Windows 11 22H2 (Sun Valley 2) RTM Released May 24th
Sources say that the Windows 11 22H2 update, codenamed Sun Valley 2, will soon reach pre-release status. The source writes that this will happen this month.
According to Neowin, well-known insider WalkingCat has revealed the exact release date for Windows 11 22H2 RTM. He claims that it will be released on May 24th. It is worth noting that the RTM (release to manufacturing) version, although it indicates a certain degree of product readiness, is not final. According to rumors, the final version of the update will be released between September and November.
Notably, May 24 is also the start date for the Microsoft Build 2022 conference, which will run for three days. During the conference, the Redmond giant will present its latest tools, technologies and updates for various software products.