In the Japanese city of Aomori, an unusual experiment will be launched in December to generate electricity using snow. It will last until spring. As expected, it will be more profitable and environmentally friendly than using a solar battery.
For the experiment, a swimming pool is used in a closed school, where snow collected on the streets will be unloaded. The pool will also install heat-conducting pipes with liquid. On the one hand, they will be covered with snow, on the other, they will be heated by the sun. Due to this, a convective movement of the fluid will occur, which will drive a small turbine, and it will provide energy. The greater the temperature difference, the more energy can be obtained.
In the future, scientists plan to heat the second part of the tubes with liquid from hot underground sources, which will increase the efficiency of the system. So far, no specific figures have been given that would indicate the power of such a system, even the estimated one.
As noted, such a system will be practically waste-free, while solar panels and wind farms need expensive disposal.
Quality images of Poco X5 5G and Poco X5 Pro 5G
Along with the cost of Samsung Galaxy Book3 laptops in Europe, insider SnoopyTech has published high-quality renderings of two upcoming Poco smartphones – X5 5G and X5 Pro 5G.
As you can see, the devices have minimal differences in terms of design. The easiest way to distinguish them is by the inscription in the camera block and the location of the flash: the Poco X5 Pro 5G has a 108 MP inscription and a round flash at the top, while the Poco X5 5G has a 48 MP inscription and an ellipse-shaped flash at the bottom.
Poco X5 5G is credited with SoC Snapdragon 695 and a 5000 mAh battery with 33-watt charging. Poco X5 Pro 5G is expected to feature Snapdragon 778G SoC, 5000mAh battery with 67W fast charging support.
Earlier, SnoopyTech published high-quality renderings of the Asus Zenfone 9 and Xiaomi 12T Pro before their official premiere.
Very expensive. The top version of the flagship laptop Samsung Galaxy Book3 Ultra with a Core i9 processor and GeForce RTX 4070 will cost 3800 euros
On February 1, a large Samsung Unpacked event will take place, within which the premiere of both the new flagship phones of the Galaxy S23 series and the new Galaxy Book3 series laptops is expected. At the disposal of an insider known on Twitter under the nickname SnoopyTech, there were data on the cost of Galaxy Book3, Galaxy Book3 360, Galaxy Book3 Pro, Galaxy Book3 Pro 360 and Galaxy Book3 Ultra in Europe.
Galaxy Book3 Ultra
The most interesting thing is the cost of the flagship model Galaxy Book3 Ultra. As you can see, the laptop will not be cheap. For a version with a Core i9-13900H processor, GeForce RTX 4070, an AMOLED 3K screen, 32 GB of RAM and 1 TB of flash memory, they will ask for almost 4000 euros! Judging by the announcements at CES 2023 in early January, many gaming laptops with GeForce RTX 4080 graphics will be more affordable. But the Galaxy Book3 Ultra is, of course, not about pure performance, but about maximum performance in the most compact device.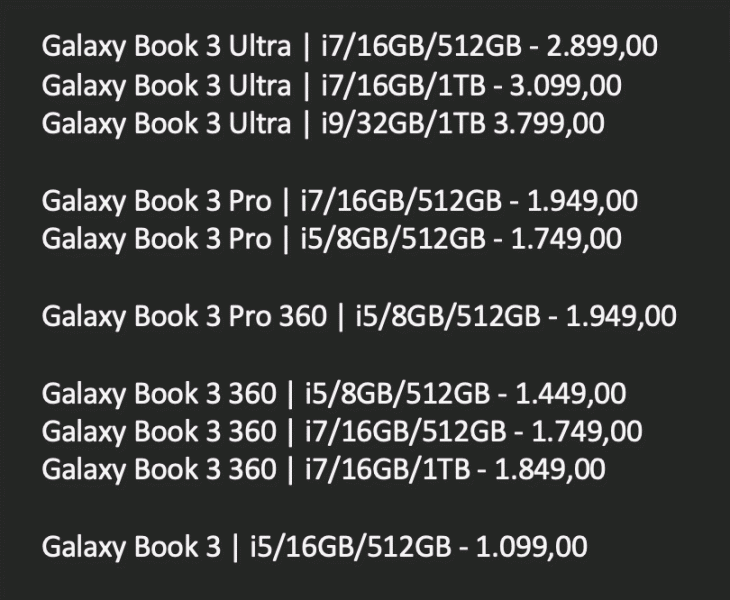 As for the simpler version of the Galaxy Book3 Ultra, there will be a Core i7-13700H and GeForce RTX 4050. Well, in the base one, apparently, there will be the same Core i7-13700H, but without discrete graphics.
We already wrote about the characteristics of the Samsung Galaxy Book 3 Pro: these laptops (in two formats – with screens with a diagonal of 14 and 16 inches) will be equipped with a Core i5-1340P and Core i7-1360P CPU, and dGPU is not provided for them.
Earlier, SnoopyTech published high-quality renderings of the Asus Zenfone 9 and Xiaomi 12T Pro before their official premiere.
Xiaomi Pad 5, Redmi K40, Xiaomi Mi 10S and Xiaomi 12X will receive MIUI 14 Stable soon
The XiaomiUI resource, which carefully monitors Xiaomi's work on new versions of the MIUI firmware, reported that seven Xiaomi and Redmi devices will soon receive a stable version of MIUI 14.
The list of models is as follows:
Xiaomi Pad 5 Pro 12.4 (dagu);
Xiaomi Pad 5 (nabu);
Redmi K40 Gaming/Poco F3 GT (ares);
Xiaomi Mi 10S (thyme);
Xiaomi Civi 2 (ziyi);
Xiaomi 12X (psyche);
Redmi K40 / Poco F3 (alioth).
When exactly the firmware will be released and who will be able to install it has not yet been reported, but most likely we are talking about participants in the proprietary Mi Pilot beta testing program.