Google has released a new app in the Apple App Store that makes it easier for iPhone users to switch to Android. The app has been listed on the Apple iOS store since Monday, but Google hasn't advertised its release.
An app called Switch to Android lets you choose which data from your iPhone you want to transfer to your new Android phone. This data includes contacts, calendar events, photos and videos, and you don't need a cable. The Switch to Android app guides you through the steps by transferring all iMessages, photos and videos stored in iCloud, and more.
In 2015, Apple created an app called Move to iOS that was designed for Android users looking to move to the iPhone. Using a Wi-Fi connection, Android owners can transfer contacts, message histories, photos and videos, bookmarks, mail accounts, and free apps. The Move to iOS app is available on the Google Play Store.
.
Enthusiasts have released Android 13 for the almost five-year-old Samsung Galaxy S9 and Galaxy Note9
Users of Samsung's flagship smartphones almost five years ago learned the opportunity to install the One UI 5.0 shell and the Android 13 operating system. And although Samsung has already stopped supporting the Galaxy S9 and Note9 (review), enthusiasts have not yet abandoned them.
The One UI 5.0 skin based on Android 13 is supported by many Samsung smartphones, but the Galaxy S9 and Note9 are not on this list.
The mobile developer community XDA Developers reported that Android 13 and One UI 5.0 are now available thanks to the unofficial Noble ROM 3.0 ported to the Galaxy S9, S9+ and Note9. Developer AlexisXDA used the Android 13 firmware for the Galaxy S20 and Galaxy Note10 Lite to create a version suitable for 2018 flagships.
Noble ROM 3.0 is currently only available for Galaxy S9, S9+ and Note9 versions based on Exynos 9810.
Of course, you can use such firmware only at your own peril and risk, being well aware of what you are doing and what to do if something goes wrong.
Early 2023: AnTuTu's Best Android Smartphones by Price-Performance
The AnTuTu benchmark team has published the latest rankings of the best Android smartphones in terms of price and performance in different price categories –– as of January 2023.
According to experts, in the beginning of the year, Vivo and Iqoo firmly "entrenched" in the market of expensive models. At the same time, in the cheapest category at a price of up to 1999 yuan (up to $ 296), the first three places went to Redmi Note 11T Pro, Oppo K10 5G and OnePlus Ace Racing Edition.
The next price category from 2000 to 2999 yuan (from 297 to 444 dollars) gave the first three places to Lenovo Legion Y70, Redmi K50 Pro and Iqoo Neo7.
The 3,000 to 3,999 yuan ($445 to $592) category is dominated by the Redmi K60 Pro, Honor 80 GT, and Xiaomi 12S.
The Iqoo 11, Iqoo 11 Pro and Xiaomi 13 Pro smartphones topped the category from 4,000 yuan to 4,999 yuan ($593 to $741).
Among the most expensive flagships at over $742, the Red Magic 8 Pro+ leads the way, followed by the Vivo X90 Pro and Vivo X90 Pro+.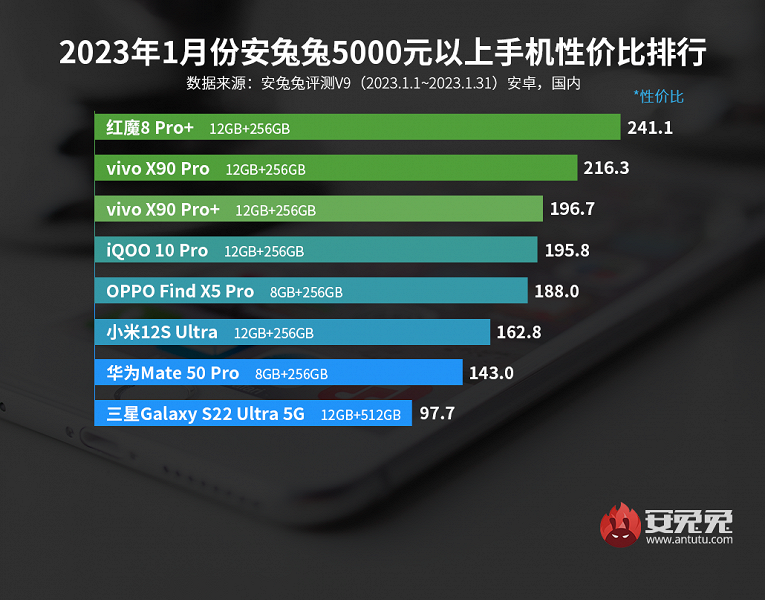 Now requires Windows 10. Google released the first version of Chrome under a new scheme
Google has released a branded browser update. The latest version of Chrome 110 is now available to a limited number of users, but already belongs to the stable stage.
Generated by the Midjourney neural network
Chrome 110 was the first version of Google's browser to have an adjusted release schedule with a more cautious approach to distribution. Google has now given access to Chrome 110 to a small number of Chrome 109 users, with a major release coming in a week. It is assumed that this approach will allow developers to identify problems with the browser and fix them before a large-scale launch.
Chrome 110 contains a rather long list of changes, but many of them are mainly relevant to developers, not ordinary users. For example, Chrome 109 was supposed to be the first version of the browser to implement an alternative to Google support for CHIPS (Cookies Having Independent Partitioned State), a proprietary addition to Cookies. It looks like CHIPS support has been moved to Chrome 110.
Of the notable innovations, you can now insert characters like "ß" and "ς" in domain names. These characters have been handled correctly in Firefox and Safari since 2016. Another innovation is a simplified procedure for setting up languages ​​in the built-in Google Translate service for translating pages. Translator settings are available directly in the browser settings at chrome://settings/language.
Chrome 110 also drops support for Windows 7 and 8.1. The browser requires Windows 10 or later to run.