Flexible interface and betting on artificial intelligence: Opera introduced a new, completely redesigned Opera One browser
Opera has unveiled its new development – a browser called Opera One. According to the developers, this browser has been completely redesigned and will eventually become Opera's main offering for installation on Windows, macOS and Linux computers.
Illustration: Opera
Opera One will replace the current version of the Opera browser at the end of 2023. The browser has a modular design and flexible navigation. The interface is customized depending on the context and needs of the user at the current moment.
Another innovation is the so-called Tab Islands, which group tabs by topic. For example, when choosing a place for lunch, tabs with menus, places, and information about restaurants will open on a special island.
As the developers promise, the islands of tabs are clearly distinguishable in the browser user interface, marked with separate colors and clear borders.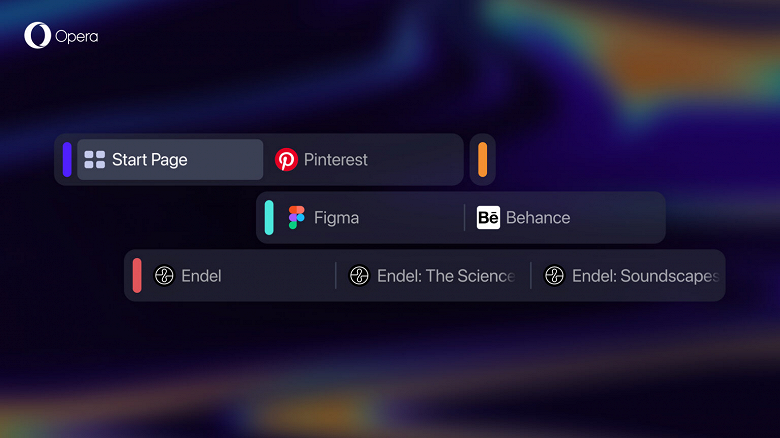 Illustration: Opera
Tab islands are automatically created to keep tabs of the same theme together. Open websites can also be combined into a tab island by pressing the CTRL/Command button, selecting the desired tabs, and then right-clicking. Tabs can also be moved between islands, added to existing islands, and so on.
In the future, Opera One will add "powerful new features" based on artificial intelligence. In the coming months, it is planned to release its own AI engine.
Those who wish can install an early test version of Opera One aimed at developers.

Another, more affordable 2024 Cadillac XT4 unveiled
In China, a restyled Cadillac XT4 is presented, which does not differ externally from the American version presented at the beginning of the year, but has differences in technical terms.
The American is equipped with a 2-liter four-cylinder turbocharged engine with a capacity of 235 hp. paired with a nine-speed automatic transmission. At the same time, the Chinese version is available both with such a motor and with a 1.5-liter engine with a capacity of 211 hp. with a torque of 270 Nm. In both cases, front-wheel drive and automatic transmission are installed.
Inside, there is a large touchscreen 33-inch 9K curved display that integrates the infotainment and instrument panel. At the same time, the climate control management is placed on a separate block.
In China, an updated Cadillac XT4 costs between $31,000 and $44,000. Cadillac also introduced the new generation Cadillac CT6 flagship sedan.
"It's destined to be a bestseller." The latest Redmi Note 12T Pro with a high-quality LCD screen was shown in a light version
Verified insider Ice Universe has published high-quality photos of the new Redmi Note 12T Pro smartphone presented today in a light version of the case and its packaging.
Ice Universe added that "it's destined to be a best-seller" considering the hardware, the quality LCD screen that has enough fans, and the attractive $225 price tag.
Redmi Note 12T Pro features a 6.6-inch Full HD+ IPS display with 144Hz refresh rate and MediaTek Dimensity 8200-Ultra SoC.
As for the cameras, they have a resolution of 64, 8 and 2 megapixels. The built-in 5080mAh battery supports 67W fast charging.
Ice Universe was the first to accurately talk about the new trend for smartphones with waterfall screens, about the notch in the iPhone X, about the new design of the iPhone 14 with a Dynamic Island cutout, and about different 200-megapixel image sensors.
Previously published photos of a black smartphone.
"Extremely rare high performance and high quality LCD smartphone." An insider published live photos of Redmi Note12T Pro
Not long after the official premiere and the simultaneous start of sales of the Redmi Note 12T Pro smartphone, the well-known insider Digital Chat Station published live photos of the novelty.
"Extremely rare high performance and high quality LCD smartphone", – wrote Digital Chat Station and added that the cost of a smartphone built on SoC MediaTek Dimensity 8200-Ultra has finally dropped to 1,500 yuan (for the basic version of the device in China they ask for $ 225).
On the frames, you can note the screen frame of decent size – Xiaomi was clearly not going to focus on the appearance, instead, the company tried to make the device as cheap as possible.
Recall that Redmi Note 12T Pro received a high-quality IPS display with a diagonal of 6.6 inches, Full HD + resolution and a frame rate of 144 Hz, a camera with sensors with a resolution of 64, 8 and 2 MP, a 5080 mAh battery with support for fast charging with a power of 67 W .