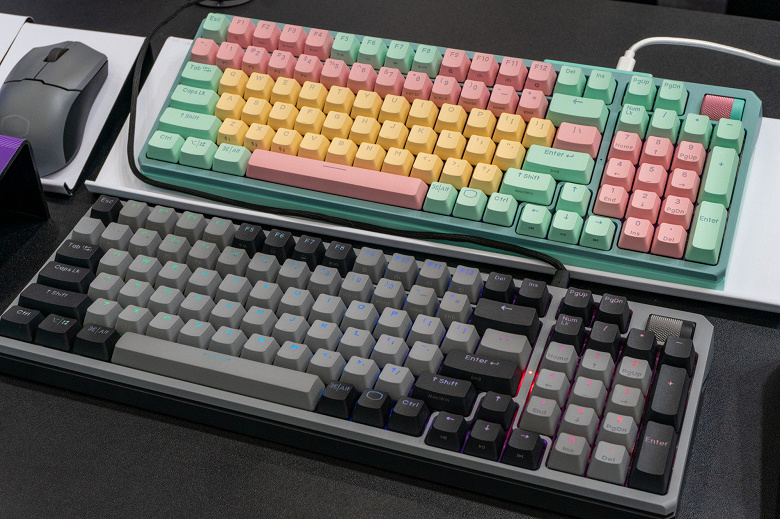 Cooler Master – For gamers: MM712 Pro mouse and MK770 Hybrid keyboard. The mouse is light, the keyboard is beautiful (in two colors)
Cooler Master brought a new gaming peripheral to Computex: a gaming keyboard and mouse. Both devices are wireless and can connect via Bluetooth or a proprietary channel at 2.4 GHz.
The Cooler Master MK770 Hybrid keyboard uses Kailh Box V2 switches, and their type depends on the color of the keyboard: red in black and gray and white in color. However, switches can be replaced, just like keycaps. And for the gaming keys (W, A, S, D), according to a representative at the exhibition stand, alternative bright keycaps will be supplied in the kit (we could not find confirmation of this in the specification tables).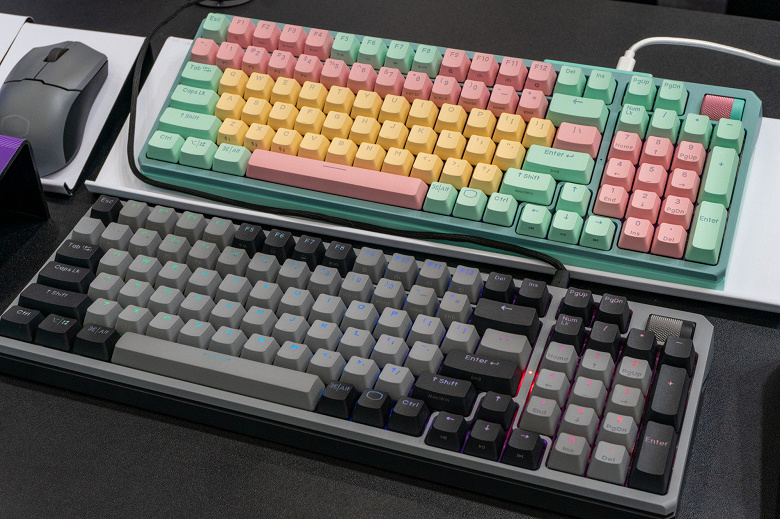 There is RGB backlighting, individual for each key. In addition, the keyboard is equipped with a wide click wheel. The polling rate in wired mode is 1000 Hz, in wireless mode it is 125 Hz. The battery capacity is 4000 mAh (there is no data on the estimated battery life).
The Cooler Master MM712 Pro mouse weighs 56 grams. In wired mode, the polling frequency is 8 kHz, in wireless – 4 kHz. The device uses an optical sensor Pixart PAW3395: resolution up to 26000 CPI, speed 650 inches per second, acceleration 50 g.
In addition to peripherals, CoolerMaster presented the Qube 500 Flatpack and NCore 100 Max cases at Computex 2023.

GeForce RTX 4090 is ready for Counter-Strike 2. The video card produces 543 FPS in the game
Almost immediately after the release of Counter-Strike 2, Nvidia explained what to expect in the game when using 3D cards from the GeForce RTX 40 line.
With Full HD resolution and maximum graphics settings, the flagship of the line – GeForce RTX 4090 – produces 543 FPS. Nvidia assured that the GeForce RTX 4090 in Counter-Strike 2 is 4.5 times faster than the GeForce GTX 1080 and 2.9 times faster than the GeForce RTX 2080.
At the other end is the GeForce RTX 4060, but even it provides more than 200 FPS under the same conditions. The performance gap between the GeForce RTX 4060 and GeForce RTX 4060 Ti is quite small, unlike other models in the line.
The first PC based on AMD Ryzen 8000 processors has been introduced. The Minisforum V3 tablet will be very large
Despite the fact that there are clearly at least a few months left before the official announcement of Ryzen 8000 processors, Minisforum has already presented the first product based on such CPUs.
We are talking about a tablet, which is currently called Minisforum V3, but this is hardly the final name. The device will be based on the as-yet unnamed AMD Ryzen 8000 hybrid processor from the Hawk Point line. So far, all that is known about it is that its TDP will be 22-28 W, that is, it will be a model of the Ryzen 8000U line.
It is known about Hawk Point processors that these will be updated Phoenix models. They will carry the same Zen 4 cores, but the GPU will be based on the updated RDNA 3.5 architecture. In addition, the new APUs will have an XDNA block for working with AI.
Returning to the tablet, Minisforum is already talking about DDR5-6400 memory, two USB4 ports, an SD card slot, Wi-Fi 6E and Bluetooth 5.2. The tablet will also offer a huge 14-inch screen with a frame rate of 165 Hz and QHD+ resolution, four speakers, a fingerprint scanner, a 5 MP camera, stylus support and a battery with a capacity of more than 50 Wh.
Considering that the current Ryzen 7000U has a very powerful iGPU, the new processors should be even faster in this regard, meaning such a tablet can also be used for games.
Intel's recent statement was misinterpreted. There will still be no full-fledged Meteor Lake-S desktop processors
Intel seems to have decided to confuse the public with its plans for the desktop processor segment. It turns out that there will still be no full-fledged desktop models of Meteor Lake-S.
Yes, Intel executive vice president and general manager of the client computing group Michelle Johnston Holthaus said just the day before yesterday that such CPUs would be released in 2024, which raised questions about three lines at once in one year. However, it now turns out that Holthaus did not actually mean the desktop segment in the form in which it is usually understood. Meteor Lake processors will indeed appear in desktop PCs, but this does not mean that such CPUs can be purchased separately and assembled into a computer based on them. In fact, Meteor Lake-S in the desktop segment will only be available in all-in-one PCs.
Meteor Lake is a power-efficient architecture that will power innovative mobile and desktop designs, including desktop form factors such as All-in-One (AIO). We will share more details about the product in the future

Intel
Intel already has experience releasing core KB desktop processors, which were only available in mini-PCs. Apparently, it will be the same story with Meteor Lake-S. Moreover, it is likely that technically these processors will completely copy mobile versions, except that the TDP may be higher.
That is, in 2024 we will have only two desktop lines: Raptor Lake Refresh, which will be released in October of this year, and then Arrow Lake-S sometime next year.