Colorful chats, customizable backgrounds and no more brakes. Microsoft showed how Skype will change
Microsoft announced a few days earlier that Skype is waiting for one of the most serious upgrades in recent years: the once very popular application (but now it has given way under the pressure of competitors) will work faster and will noticeably change visually. Now it became clear what exactly would change.
Sad gray backgrounds will finally disappear – users will be able to set the background images to their liking. But it's not just about static pictures: you can add live subtitles or, for example, animated wallpapers. Also new icons will appear in Skype.
Avatars of participants in chat rooms who communicate only by voice, without video communication, will be displayed differently: with a photo from the user's profile and a custom background that can be added or changed right during the conversation.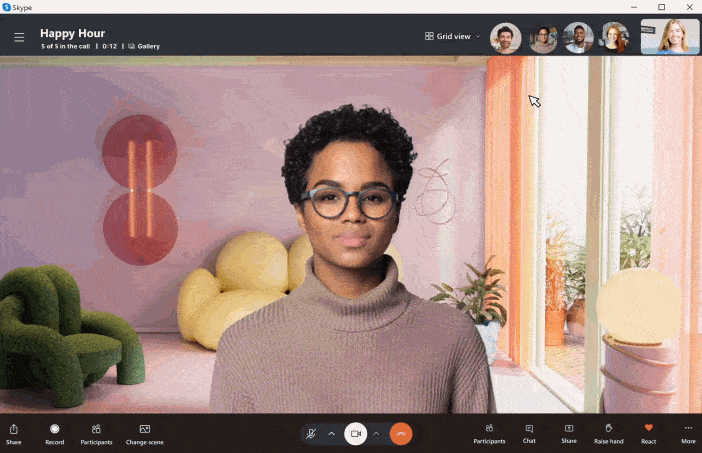 Themes will appear in the chats – users will be able to choose color accents to their liking. Also, users will be able to change the display grid of the conference participants' windows. For example, you can hide your own window.
Finally, Microsoft will improve the speed of the application. The desktop version gets 30% faster and the Android version gets over 2000% faster!
…
Smartphones are to blame: Nikon and Panasonic have stopped the production of compact digital cameras. Fujifilm, Sony and Casio have done it before
Japanese companies Nikon and Panasonic have stopped making low-cost compact digital cameras and will now focus on more expensive mirrorless cameras.
The reason is partly due to smartphones, which are increasingly focusing on quality cameras. Global shipments of compact digital cameras are down 97% from 2008 to just 3.01 million units in 2021 as smartphone cameras get better and smarter.
Nikon has suspended the development of new compact models of its Coolpix line. Nikon currently only offers two models with quality lenses, but the company is "closely monitoring market trends" to determine future production volumes.
Nikon has already stopped making DSLRs to specialize in high-end single-lens mirrorless models. According to Nikkei Asia, the company will focus resources on mirrorless cameras, which have been made popular by more advanced digital technologies.
Panasonic Holdings "has not launched any new products in the price range below $370 since 2019 and has no plans to develop low-cost models in the future." "We have stopped development of any new models that can be replaced by a smartphone," a company spokesman said.
Going forward, Panasonic will produce high quality mirrorless cameras for photography enthusiasts. The company plans to launch a mirrorless camera with the German company Leica Camera.
Previously, Fujifilm stopped production of its FinePix compact cameras. Canon hasn't released a new Ixy camera since 2017. The Sony Group has also not offered any new compact models under its Cyber-shot brand since 2019, and Casio Computer stopped making Exilim cameras in 2018.
Xiaomi Buds 4 Pro Flagship Headphones Coming This Week
Xiaomi founder Lei Jun will hold a press conference this week to showcase many new products, including Redmi K50 Extreme Edition, Xiaomi MIX Fold 2, Xiaomi Tablet 5 Pro with a 12.4-inch screen. In addition, the new Xiaomi Buds 4 Pro headset was announced today and will be shown at the same event.
Judging by the official image, the headphones have an in-ear design and a gold color scheme. It is reported that this flagship model will receive a noise reduction system and a surround sound system.
Back in May, it was leaked that the Redmi Buds 4 Pro would support up to 43dB of noise cancellation, the headphones would get a wind noise reduction mode, ultra-low latency of 59ms, and offer 36 hours of battery life.
The presentation of new products is expected on August 11.
Buyers of Nothing Phone (1) were deceived. Nothing urgently changed the characteristics of the smartphone on the official website
Introduced in July this year, the Nothing Phone (1) smartphone was quite actively discussed on the Web because of its original design and backlight. However, early adopters immediately began reporting screen problems and lagging LED strips.
Now it turned out that buyers of Nothing Phone (1) were deceived by information about the maximum brightness of the screen. According to official data, the maximum brightness of the Nothing Phone (1) screen is 1200 cd/m2but in almost all tests, the maximum screen brightness is less than 700 cd / m2. In some tests, it does not even rise to 650 cd / m2.
In response, Nothing Phone (1) stated that it would conduct an internal investigation. In addition, the company has changed the peak brightness on the official website settings page from 1200 nits to 700 cd/m.2.