$450,000 space flight without reaching the edge of space. Virgin Galactic to Start Selling Tickets Tomorrow
Virgin Galactic has announced that it will start selling tickets to everyone on February 16th. But not everyone can become a space tourist, since the price of a ticket is $450,000.
True, the entire amount will not be required immediately, but the deposit is still huge and amounts to $ 150,000.
We at Virgin Galactic believe that space transforms us. We plan to bring our first 1,000 customers into commercial service later this year, which will provide an incredibly strong foundation as we begin regular operations and expand our fleet.
Thus, there are several news at once. This is the start of ticket sales, and prices, and the approximate dates of the first flights, and the ticket limit. In addition, as we see, the company is going to build new ships.
Since we are still talking about huge sums and corresponding customers, Virgin Galactic is not going to be limited directly to the flights themselves. Booking tickets will also give you access to the Future Astronaut community, built to bring inspiration, excitement and adventure from the moment you buy a ticket to spaceflight and beyond, according to the press release. Members will have access to events that money can't buy, travel, and space-preparation activities while they await their space flight.
As for the flight itself, it will take about 90 minutes, but people will spend only a few of them in zero gravity. It is difficult to talk about a full-fledged space flight in this case, since in the first such flight VSS Unity reached an altitude of only 89 km, which is lower than the conditional space boundary (100 km) accepted in most countries.
.

Video cards continue to fall. The GPU market for PC collapsed by 43%
The PC GPU market fell 43% year-on-year in the first quarter of 2023, according to analysts at Jon Peddie Research.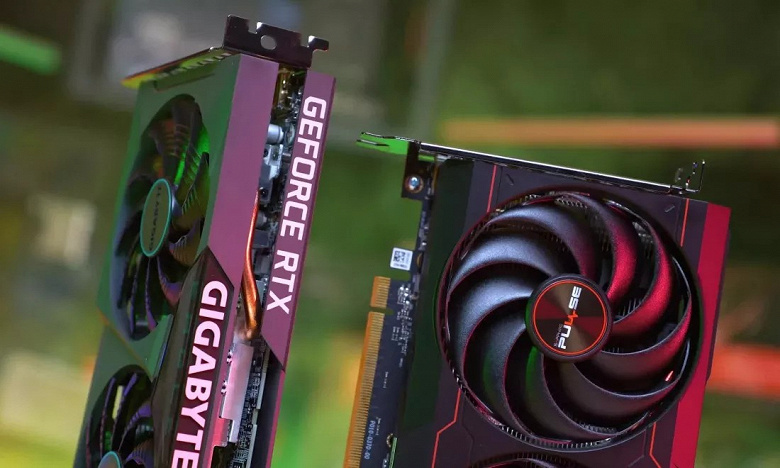 Desktop GPU shipments dropped by 40% and laptop shipments by 45%, nearly halving.
If we consider the GPU market as a whole, including iGPUs in processors, then Intel continues to dominate with a 68% share, AMD holds 13%, and Nvidia has a 19% share. At the same time, Intel's share has grown significantly over the year, while Nvidia and AMD have seen a decline.
Analysts also assessed the processor market. There is data on the distribution into segments: 31% fell on desktop CPUs, and the remaining 69% are laptop processors. A year earlier, the shares were respectively 27% and 73%.
The all-new Geely Galaxy L7 crossover went on sale in China. 390 hp, three screens, 3-speed transmission and 1300 km on one tank for 19.5 thousand dollars
In China, the first model of Geely's new sub-brand, Galaxy, went on sale. Under the designation Galaxy L7 hides a mid-size hybrid crossover with a long range and a low price.
Galaxy L7 is offered in five trim levels with prices ranging from 19.5 to 24.4 thousand dollars. The two most affordable versions received a traction battery with a capacity of 9.11 kWh, it provides a range on pure electricity of 43-55 km, in other trim levels a traction battery with a capacity of 18.7 kWh is used, and right there the range is more – 90- 115 km. The power reserve of a fully fueled and charged crossover is 1310-1370 km.
The power plant of the crossover is represented by a 1.5-liter turbo engine and a pair of electric motors, the total power of all elements is 390 hp. Torque is sent to the wheels via a three-speed DHT Pro transmission – so all the power is available in one of the modes (when the motors work together).
The dimensions of the car are 4700 x 1905 x 1685 mm, the wheelbase is 2785 mm.
The Geely Galaxy L7 received three screens, but they are located differently from the Geely Monjaro: the displays in front of the driver (with a diagonal of 10.25 inches) and the front passenger (diagonal – 16.2 inches) have a horizontal orientation, but the central screen with a diagonal 13.2 inches oriented vertically. But that's not all: the Geely Galaxy L7 also has a 25.6-inch projection screen. The infotainment system of this model is running Galaxy OS, and its hardware platform is based on the Qualcomm Snapdragon 8155 SoC.
Also in the Geely Galaxy L7 equipment are heated and ventilated front seats, 11 speakers, a Bluetooth dongle and a host of driver assistance systems, including adaptive cruise control.
Monitor with a giant curved 144Hz QD-OLED panel. Asus ROG Swift OLED PG49WDCD unveiled
Asus has revealed its new ROG Swift OLED PG49WDCD gaming monitor, which offers a very unusual feature set.
First, the monitor is huge. We are talking about a 49-inch panel. Secondly, this panel is curved. Thirdly, this is a QD-OLED panel, which is still very rare. Among other things, it is characterized by a peak brightness of 1000 cd / m2.
Fourthly, the resolution of this panel is 5120 x 1440 pixels, that is, the aspect ratio is 32:9. In addition, the panel supports a frame rate of 144 Hz.
From the rest, we can note support for USB Power Delivery with a power of 90 W, HDMI 2.1 ports and a stand that allows you to adjust the height of the panel. Price data is not yet available.