16-inch 3.2K 165Hz, i9-13900H and GeForce RTX 4070 under 2kg. Lenovo Legion 9000X 2023 proved to be a light laptop for its category
Lenovo has published details about the Legion 9000X 2023 laptop. This is a full-fledged gaming model with a 16-inch screen, but at the same time the thickness of the case is small – 17.99 mm at the thinnest part, and the weight does not exceed 2 kg. This model is sure to be one of the lightest in its class. And at the same time, it should be noted the presence of a high-capacity battery – 100 Wh.
The Legion 9000X 2023 has a 2.5K resolution 240Hz IPS panel at its base, while the more expensive variant has a 3.2K resolution panel at 165Hz. The processors in the top version are Intel Core i9-13900H or AMD Ryzen 9 7940HS, the graphics accelerator is GeForce RTX 4070. The maximum amount of DDR5-5600 MHz RAM is 32 GB. The package includes a 230W power supply, both USB-C ports of the laptop support 140W charging.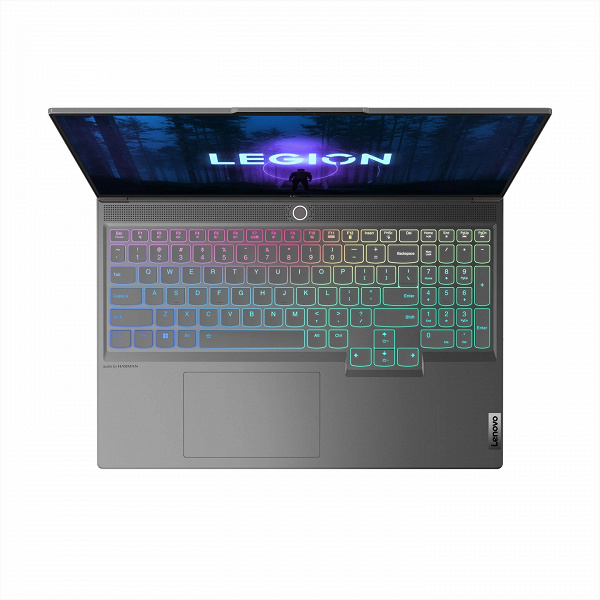 Lenovo Legion Y9000X 2023 (based on Intel CPU) will go on sale in April starting at $1,770. Legion R9000X 2023 (on AMD CPU) will be available in May, starting price is the same.

31.5-inch 4K screen, Core i9-13900H and GeForce RTX 4050 Laptop in an ultra-slim design. Lenovo Yoga Air 32 is a unique all-in-one PC
Lenovo has introduced a rather remarkable all-in-one computer to the home market in China: Yoga Air 32 features a powerful hardware platform and an ultra-thin body (11.6 mm).
Monoblocks with discrete GPUs can be counted on the fingers, not only is the processor the most powerful in the line, and quite a gaming GPU, but also the case is very thin. True, all this causes a considerable cost – $ 2,400! The Yoga Air 32 has a simpler version – without a discrete GPU. They ask for 1980 dollars for it.
Yoga Air 32 is equipped with a 14-core Intel i9-13900H processor, 32 GB of LPDDR5-6000 memory and a 1 TB SSD. The discrete graphics is the GeForce RTX 4050 Laptop. The IPS screen is characterized by a diagonal of 31.5 inches and a resolution of 4K. It complies with the HDR600 standard and covers 97% of the DCI-P3 color space. Among the interface connectors are HDMI 2.1, USB-C, USB-C with Thunderbolt interface, USB-A. The monoblock also received webcams with infrared illumination for the Windows Hello function and four speakers with Dolby Atmos support.
The Lenovo Yoga Air 32 is currently available for pre-order in China, with retail sales starting May 31st.
27-inch, Full HD, 165Hz and AdaptiveSync support for $110. Redmi G27 budget gaming monitor unveiled
The Redmi G27Q monitor has appeared in the Redmi range. This is a budget gaming model with a 27-inch IPS panel with Full HD resolution and a frame rate of 165 Hz. Redmi G27 is the "younger brother" of the G27Q model, which we have already written about.
Redmi G27 supports AdaptiveSync frequency synchronization technology and provides coverage of 99% of the sRGB color space. It is equipped with a simple stand that allows you to change only the angle of the screen, as well as DisplayPort and HDMI video inputs. The price of the device in China is $110.
Here's a Pro laptop for you. Lenovo introduced Xiaoxin Pro 16 2023 Core Independent Display Edition – it has a Core i5 processor and no discrete graphics
Lenovo introduced a special version of the Xiaoxin Pro 16 2023 laptop in China: the new model is called the Core Independent Display Edition, and its name indicates the absence of a discrete graphics adapter.
Previous "full" versions of Xiaoxin Pro 16 2023 had either GeForce RTX 3050 Laptop or GeForce RTX 4050 Laptop. But in the Core Independent Display Edition, the Iris Xe video core integrated into the CPU is responsible for graphics processing. The processor is also not the most powerful – 12-core Core i5-13500H, but it is used in all configurations of Xiaoxin Pro 16 2023.
Of course, due to the exclusion of dGPU, the new version of the laptop has become cheaper than previously presented: they ask for $ 800 for it. For comparison, the cost of the GeForce RTX 3050 Laptop version is $1030.
Xiaoxin Pro 16 2023 Core Independent Display Edition received a 16-inch screen with a resolution of 2.5K and a frame rate of 120 Hz, a 75 Wh battery, a pair of USB-C ports with Thunderbolt interface, 16 GB of RAM and a 1 TB SSD. Device thickness – 17.5 mm, weight – 1.93 kg.