120Hz 16:10 OLED screen, latest Ryzen 7040H and RTX 4050. Acer Swift X 16 OLED laptop unveiled with $1,250 starting price
With each generation, laptops in the same price range become more powerful. But it seems that new AMD and Intel CPUs, new Nvidia graphics cards and a number of other features will make the 2023 generation much more attractive than the previous ones. For example, Acer introduced the Swift X 16 OLED model, which starts at just $1,250. And for the money, a mobile PC offers a lot.
First, as the name implies, it is equipped with an OLED screen. What's more, it's a 120Hz panel with a resolution of 3000:2000 pixels. Secondly, the latest Ryzen 7040, led by the Ryzen 9 7940H, serve as the heart of the novelty. Thirdly, for games there is a GeForce RTX 4050. True, unfortunately, it is not yet clear whether there is a discrete graphics card in the basic configuration.
From the rest, we can note Wi-Fi 6E, a screen ratio of 16:10, a case thickness of only 17.9 mm, RAM up to 16 GB and an SSD up to 2 TB. The novelty will appear on sale in July.

Video cards continue to fall. The GPU market for PC collapsed by 43%
The PC GPU market fell 43% year-on-year in the first quarter of 2023, according to analysts at Jon Peddie Research.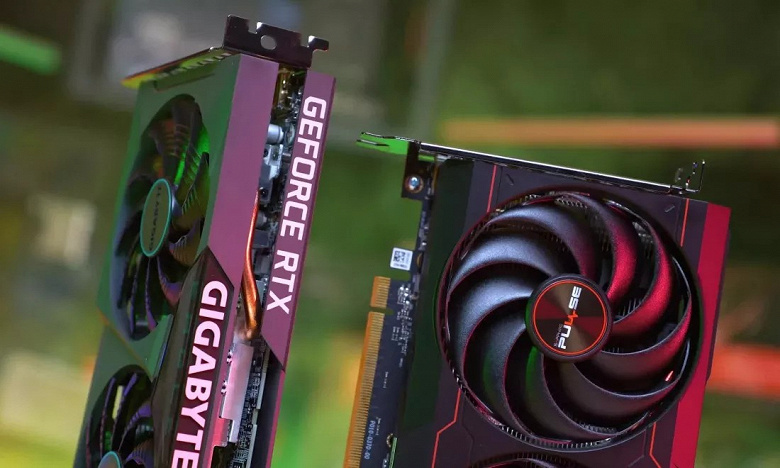 Desktop GPU shipments dropped by 40% and laptop shipments by 45%, nearly halving.
If we consider the GPU market as a whole, including iGPUs in processors, then Intel continues to dominate with a 68% share, AMD holds 13%, and Nvidia has a 19% share. At the same time, Intel's share has grown significantly over the year, while Nvidia and AMD have seen a decline.
Analysts also assessed the processor market. There is data on the distribution into segments: 31% fell on desktop CPUs, and the remaining 69% are laptop processors. A year earlier, the shares were respectively 27% and 73%.
Monitor with a giant curved 144Hz QD-OLED panel. Asus ROG Swift OLED PG49WDCD unveiled
Asus has revealed its new ROG Swift OLED PG49WDCD gaming monitor, which offers a very unusual feature set.
First, the monitor is huge. We are talking about a 49-inch panel. Secondly, this panel is curved. Thirdly, this is a QD-OLED panel, which is still very rare. Among other things, it is characterized by a peak brightness of 1000 cd / m2.
Fourthly, the resolution of this panel is 5120 x 1440 pixels, that is, the aspect ratio is 32:9. In addition, the panel supports a frame rate of 144 Hz.
From the rest, we can note support for USB Power Delivery with a power of 90 W, HDMI 2.1 ports and a stand that allows you to adjust the height of the panel. Price data is not yet available.
This is the second generation of the iconic NH-D15 super cooler. There are not many changes, but it's still a long time to wait for the release
Noctua first showed a new generation of CPU cooler NH-D15.
Outwardly, the cooler has changed very little, so they decided not to change the name. But, for example, there were eight heat pipes against six in the first generation. In addition, the gap between the ribs was reduced from 1.9 to 1.6 mm.
Two new-generation 140mm fans will be responsible for airflow, details of which are not yet available. All of this combined should make the iconic cooler a bit more performant, although now, almost 10 years after its release, it is still one of the best-performing CPU coolers on the market.
Despite the demonstration, the release of the novelty is still far away: Noctua is going to release the cooler only next year.